Terrazzo is an Italian type of flooring that is currently utilized to create distinctive tiled floor and wall treatments. These speckled terrazzo tiles are often set with metal divider strips, which may leave you wondering how to clean terrazzo tiles floors and what is the finest terrazzo tiles floor sealant. Fortunately, there are several neutral cleansers available, and as long as you are aware of the materials used to construct your floor, you should be able to simply maintain your terrazzo tile floor.
What Exactly Is Terrazzo?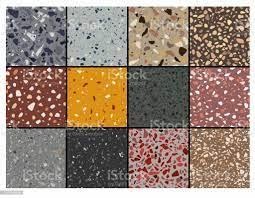 Terrazzo tiles, according to Elle Decoration, is composite material composed of glass, marble, or quartz particles (or similar materials). These little particles are often placed down using a polymer or concrete binder and then polished to reveal the individual components.
Terrazzo tiles are often installed using metal divider strips, which enables the creation of complicated patterns and designs utilizing tiles of varying colors and compositions. The Hollywood Walk of Fame is one of the most well-known examples. Terrazzo tiles inlaid with tiny metal strips form the flooring and stars.
Terrazzo tiles provide a distinctive pattern and finish to any floor, but their glossy surface makes them more slippery than other types of flooring, increasing the risk of injury, particularly for youngsters, disabled residents, and the elderly. Additionally, since terrazzo tiles are composed of stone, it may deteriorate, fracture, or crumble if not properly maintained. When cleaning, take care not to scratch the surface.
Terrazzo tiles Cleaning with a Neutral Cleaner
If your terrazzo tiles floors are gathering stains and evidence of wear that regular cleaning does not seem to eradicate, it may be time to do a concentrated cleaning on them. To begin, ensure that your floor has been thoroughly cleaned to ensure that no remaining dirt creates further scratches on its surface. However, if you just have minor scratches and wish to avoid further damage, these floors might benefit from frequent sweeping to help preserve their appearance and prevent debris accumulation.
After properly sweeping your terrazzo tiles floor, you'll want to mop it with a neutral pH product. This is the optimal condition for the polymer and the stone. Avoid aggressive chemicals with a high or low pH, as they may damage the natural stone. On a terrazzo tiles floor, avoid using vinegar, bleach, or oils. Numerous manufacturer-recommended neutral cleansers formulated particularly for terrazzo tiles floors are available.
Terrazzo tiles Cleaning Instructions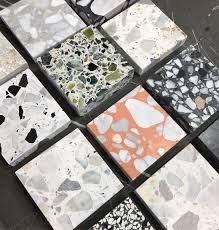 Prepare your cleaning solution and mop the floor with a gentle, wet mop. To avoid streaks, use gentle, even strokes. Proceed from one little portion to the next. Certain neutral cleansers may be kept on the terrazzo tiles surface for up to 15 minutes if thorough cleaning is required. On the bottle, you should look for the manufacturer's information.
Following that, wipe the floor once more with a pail of fresh water to remove any remaining neutral cleanser. Due to the slick nature of terrazzo tiles, wait until the floor has completely dried before reopening it to traffic. After the floor has dried, you may buff it to restore some of its shine. Utilize a dry brush that is specifically intended for polishing comparable surfaces.
You may also apply a flooring wax if desired. While polishing, keep an eye out for areas where the terrazzo's surface may be degrading. Terrazzo recommends that if there is any leftover sealer, it should be stripped out and resealed at least once a year, if not semiannually. StoneTech, Professional BulletProof, and Betco Floor Sealer are three of the finest terrazzo tiles sealers.
What You Will Need
A Neutral Cleaner
A Floor Wax
A Sealer
A Broom
A Mop
A Bucket
A Brush
Terrazzo Tiles Styles That Will Astound Your Guests
Terrazzo tiles are making a splash in the world of interior design right now. With its distinctive texture and striking appearance, it's clear to understand why terrazzo tiles aren't just making a resurgence among architects and designers today — they're here to stay.
As design trends come and go, the buzz around terrazzo tiles reflects the present homeowner's quandary – how to create a house that is a fun extension of the concrete industrial and minimalist style that has been the go-to style in Malaysia for some time now.
Indeed, terrazzo tiles from Malaysia's most famous tile stores enable youthful, visually oriented homeowners to experiment with a range of colors, textures, and custom treatments to fit a variety of home interior design preferences.
Not only are terrazzo tiles an excellent way to add interest to a room, but they are also a stunning and cost-effective alternative to the actual stone.
However, Aren't Terrazzo Tiles Typically Used in Bathrooms?
While they have historically been used mostly in bathrooms, they may be used elsewhere, including on flooring in major living spaces, floor-to-ceiling in bathrooms, feature walls, benchtops, and patios. The list goes on and on!
Three Terrazzo Tile Designs That Will Astound Your Guests
1) Employ warm hues and tones Pop
Terrazzo-style tiles work well with warm color schemes due to their potential to seem 'cool.' These tiles are available in cold and neutral hues that may be enhanced with the addition of warm, earthy tones and pops of color in your home design. Visit http://bmfcarpetcleaninghouston.com/terrazzo-tiles-interior-tips-for-homeowners/ to read about Terrazzo tiles interior tips for homeowners.
Choose a color palette with a bold flash of color and mix it with warm wood tones. Additionally, you may experiment with various hues of warm lighting to create an exquisite but wonderfully pleasant atmosphere.) Utilize Terrazzo Tiles in Place of Stone and Wood
2.) The timeless combination of stone hues and warm wood never fails to wow.
Thus, despite the fact that terrazzo tiles are produced, their multi-toned appearance gives the impression that they are formed of stone!
This allows them to perfectly complement your wood furniture while being far less expensive than stone! In this case, the wood cabinets take center stage, while the tiles serve as a fantastic foil for the gorgeous cabinet color.
When employing terrazzo tiles, you have the option of selecting more dramatic materials that are balanced by the tile's subtlety!
3) Experiment with Soft Textures And Cozy Elements
While terrazzo tiles are often simple and beautiful in form, they may make a space seem quite chilly.
As a result, many astute designers opt to add warmth to the area by the use of texture (such as a plush couch or marble table) or complementary decorating elements (such as a vase of flowers).
For instance, a grey sofa lends a rich air to space and softens it. Additionally, you may choose carpets, drapes, and other fabrics to add warmth to the terrazzo-tiled area!